In support of Bloom Township High School District 206's mission and vision, it is the mission of the Human Resources Department to support the total operation of the school district in meeting its goals through its most valuable resource – its PEOPLE. It is our goal to provide the necessary human resources and organizational culture to support the District's mission to provide the best education possible for each and every student.
We are dedicated to:
Attracting, developing, and retaining the best qualified employees
Facilitating change and the pursuit of excellence in all employee related programs and processes
Advocating a culture of professionalism and respect for all employees to ensure a highly engaged workforce
Taking accountability for human resources operational and administrative excellence
Core Values
Customer Service: We provide high quality service to each other, our employees and other stakeholders
Commitment: We foster a culture of responsiveness, accountability, and professionalism
Integrity: We behave ethically, honestly and respectfully towards our employees and other stakeholders
Be a Part of the Bloom Township Family
Human Resources
Employee Documents
National Board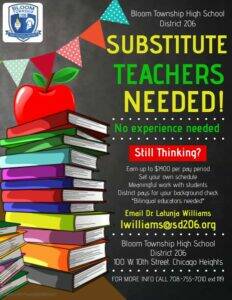 Substitute Teachers Needed! Click here to apply online.
---

EMPLOYEE ASSISTACE Program (EAP)

Recent Updates – Educators' well-being
STRESS MANAGEMENT & SELF-CARE
ABCs of Managing Change: Transitions can be tricky. Discover ways to reduce stress through anxiety management, boundaries, and communication.
Nutrition and Mindfulness Guide: Build a healthier relationship with food; Be more mindful and break common habits; and understand the complicated relationship between food and stress.
Sleep and Well-Being: Highlights the importance of quality sleep and provides tips for better sleep.
CREATING A SAFE AND SUPPORTIVE CLASSROOM
For help, text or call 800.456.6327 to:
Connect with a masters-level counselor 24/7
Schedule an in-person or telehealth appointment