Bloom Township staff, please visit the MTSS Staff links page for additional resources
WHAT IS MTSS?
With MTSS, all students participate in the core curriculum, with those students with greater needs receiving one or two additional tiers of intervention to provide additional support beyond the core curriculum. MTSS is a comprehensive tiered model of support to address the full range of students' academic and behavioral needs. Through progress monitoring and a problem solving approach, academic and behavioral performance data are guided for student success.
The MTSS Framework consists of 3 Tiers
TIER I: UNIVERSAL CORE INSTRUCTION
---
Tier I is the foundation of the MTSS Framework. It is the School-Wide, Universal Core Curriculum.
High quality core instruction for all students
Use of a wide array of instructional methods and differentiated instruction to meet the needs of
all learners
Proactive classroom management strategies and school-wide behavior matrixes aimed at creating a supportive atmosphere
Culturally and linguistically responsive
Assess all students 3 times per year
Approximately 80%-90% of student needs should be met through MTSS Tier I
TIER II: TARGETED INTERVENTIONS
---
Refers to Small Group Interventions provided in addition to Tier I with ongoing, documented progress monitoring.
Data-informed, targeted, small group, academic and behavior interventions are provided in
addition to Tier I core instruction
Interventions are evidence-based programs and/or practices
Routine and systematic progress monitoring to ensure effectiveness and student responsiveness
Interventions are delivered by classroom teachers, deans, counselors, specialists, etc.
Approximately 5-15% of students may require Tier II support
Increased communication with families to bridge supports
TIER III: INTENSIVE INTERVENTIONS
---
Individual interventions provided in addition to Tier I and II with ongoing, documented progress monitoring.
Data-informed, intensified and/or higher frequency intervention in addition to Tier I and Tier II
Intervention is tailored specifically to meet the needs of each student
Individualized support can include assistance from outside agencie
Often delivered one-to-one
Approximately 1-5% of students may require Tier III support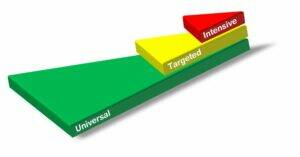 At Bloom Township HSD 206, every student has equitable access with ALL students and staff
participating as members of the multi-tiered system of supports. With MTSS, all students have
access to culturally- and linguistically-relevant practices that are layered from universal (every
student) to targeted (some students), to intensive (few students) in order to support the academic and
behavioral needs of every student.
WHY IS SD 206 IMPLEMENTING MTSS?
SD 206 is refining our supports in order to increase early identification and support of students with
learning and behavior needs. The MTSS process begins with high-quality instruction and universal
screening of all students in the general education classroom. Our goal is to provide interventions at
increasing levels of intensity to accelerate student learning and assist students with successfully
reaching future outcomes.
Bloom HSD 206's MTSS process will:
Improve SD 206 student outcomes
Strengthen the SD 206 emphasis on prevention and proactivity
Offer a broadened scope of services to SD 206 students
Integrate academic, behavioral and social-emotional supports for SD 206 students and stakeholders
Build capacity among SD 206 educators
Reduce the occurrence of learning disabilities identification
Increase family and stakeholder engagement in the high school's academic and behavioral
mission
Paramount to this process is family engagement. When schools inform parents and families
frequently of their student's progress, families become more active and meaningful participants in the
school's educational effort.
For questions regarding the district's MTSS Framework, please contact Dr. Gibson White.