WHAT IS MTSS?
With MTSS, all students participate in the core curriculum, while students with greater needs receive one or two additional tiers of intervention to provide additional support beyond the core curriculum. MTSS is a comprehensive tiered model of support to address the full range of students' academic and behavioral needs. Academics is framed through Response to Intervention (RTI) and Behavior is framed through Positive Behavior Intervention & Supports (PBIS). Through progress monitoring and a problem solving approach, academic and behavioral performance data are guided for student success.
The MTSS Framework consists of 3 Tiers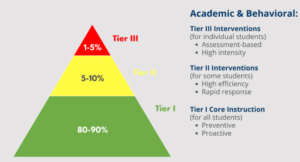 Academics– RTI
Behavior– PBIS
TIERS OF MTSS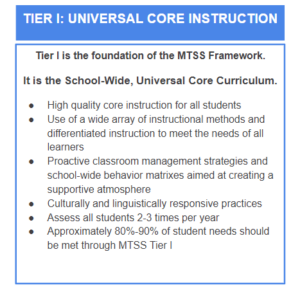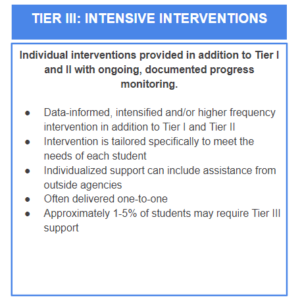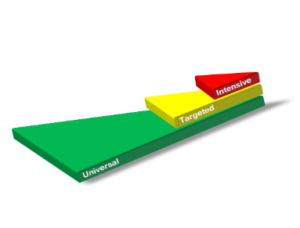 At Bloom Township HSD 206, ALL students will have equitable access with all staff participating as members of the multi-tiered system of supports. With MTSS, all students will have access to culturally- and linguistically-relevant practices that are layered from the universal layer (every student) to the targeted layer (some students), to the intensive layer (few students) in order to support the academic and behavioral needs of every student.
WHAT ARE THE ESSENTIAL COMPONENTS OF MTSS?
The MTSS process begins with high-quality instruction and universal screening of all students in the general education classroom. In addition to the universal Tier 1 instruction, MTSS will provide additional tiers of support, via interventions, at increasing levels of intensity to accelerate student learning and assist students with successfully reaching future outcomes.
Bloom HSD 206's MTSS process will include the following essential components delivered along a continuum to meet the full spectrum of social, emotional, behavioral, and academic needs of students.
A Proactive and Preventative Focus on Student Success
Universal Screenings (which identify students who may be at-risk academically and/or behaviorally)
High Quality & Explicit Instruction
Use of Decision-Making Rules
Evidence-Based, Systematic, Interventions
Routine Progress Monitoring & Data Analysis
Data-Based Decision-Making to Adjust Instruction / Interventions
Team-Based Problem Solving
Parent and Community Voice and Involvement
Paramount to this process is family engagement. When schools inform parents and families
frequently of their student's progress, families become more active and meaningful participants in the
school's educational effort.
MTSS STAFF RESOURCES
(Click Images Below to Enlarge and/or Print)
Tier 1– Classroom Practices for All Teachers and All Students
MTSS– Behavior– Menu of Tier 1 Classroom Practices

MTSS Newsletters and MTSS Quick-Reference Guides
(Click Images Below to Enlarge and/or Print)
Social Emotional Learning (SEL)
(Click Images Below to Enlarge and/or Print)
SEL is a process through which all young people and adults acquire and apply the knowledge, skills, and attitudes to develop healthy identities, manage emotions, and achieve personal and collective goals, feel and show empathy for others, establish and maintain supportive relationships, and make responsible and caring decisions. (CASEL.org)
SEL Survey Notice to Families- English
SEL Survey Questions 2022-2023
SEL Survey Notice to Students
SEL Survey Notice to Families-
Español
SEL Survey Questions 2022-2023–
Español
SEL Survey Notice to Students–
Español
For questions regarding the district's MTSS Framework, please contact Dr. Tasha Gibson White.
FAMILY & COMMUNITY ENGAGEMENT
Access some of the resources geared toward sustaining the SD 206 framework for building greater support between our school, families, and communities.
Reading
9th Grade Reading Books for Teens Aged 14-15
10th Grade Reading Books for Teens Aged 15-16
11th Grade Reading Books for Teens Aged 16-17
12th Grade Reading Books for Teens for Teens Aged 17-18
Math
77 Free math Resources & Online Tools for Students & Teachers
Behavior and Social Emotional Wellness
***Safe To Help Illinois Resources***
Anxiety
Bullying Tips
Coping Skills
Depression
Healthy Relationships
Self-Esteem
Stress
Teenage Stress
Worried About a Friend

PBIS: Aligning and Integrating Family Engagement in PBIS: Concepts and Strategies for Families & Schools in Key Contexts